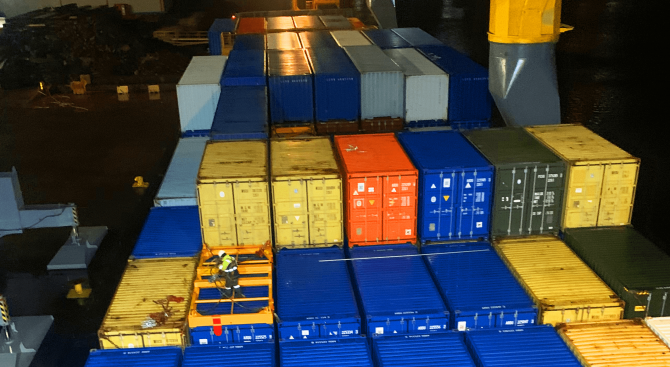 Project packaging for Rothera Research Station Modernisation project
Posted on March 15 2022


Stadium Export Services has completed a bespoke preservation and packaging contract for Trans Global Projects (TGP), a project logistics provider contracted by BAM Nuttall Ltd to transport materials for a major Antarctica mission.
Over a period of six weeks, more than 60 containers were packed at the Port of Middlesbrough to transport building materials for the next stage of the British Antarctic Survey's Rothera Research Station Modernisation project.
Over 1,200 cubic meters of products were received, packed and loaded directly onto the vessel from the quayside facilities. Stadium Export Services was responsible for the packaging, palletisation and containerisation of the building materials, allowing the shipment to be stored safely and securely during transit in the vessel.
All dangerous goods, including aerosols, paint and lubricants, were packed at Stadium's site in Gateshead. Three containers were prepared with material safety data sheets (MSDS) and packaging notes/labels prior to joining the remainder of the shipment before transit.
Julian Cope, Project Manager at TGP, said: "Stadium has been an essential cog in the wheel for this project. The team was at our beck and call in arranging the packing of equipment and materials during a very challenging schedule.
"Ultimately, the team did a superb job, and we received excellent service."
Brian Smith, CEO at Stadium Export Services, said: "We were delighted to receive another contract from TGP for the next stage of the Rothera Research Station Modernisation project. Due to the critical nature of this project, we worked to strict timescales to design and manufacture bespoke solutions for the building materials for the project. The equipment had to be packed correctly to ensure there were no surprises upon arrival in the Antarctic.
"All containers and loading equipment underwent fumigation to protect the polar environment and only timber compliant with the International Standards for Phytosanitary Measures (ISPM15) was used for export packing. Protecting the environment was priority when considering the materials and methods used on this project, avoiding contamination was a key focus for us."
Stadium's team worked with North East businesses to support the earlier stages of the mission in 2018 and 2020.