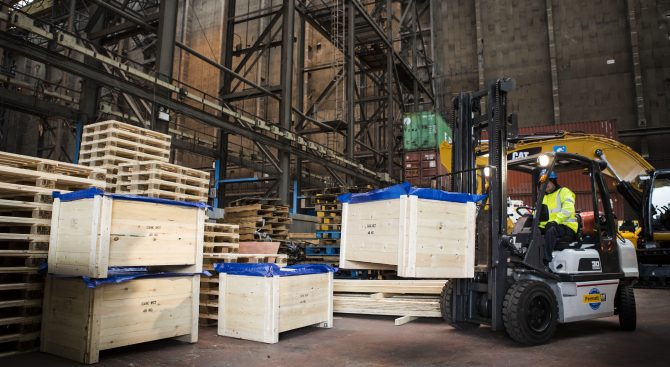 North East businesses support major Antarctica mission
Posted on December 18 2018


Trans Global Projects has chosen Stadium Export Services and AV Dawson to support the construction of a new wharf in Antarctica which will support the RSS Sir David Attenborough.
Stadium Export Services, part of the British Engines Group, has been selected by Trans Global Projects (TGP), an international project logistics management company, for its expertise in packaging and logistics.
Alongside them, Teesside  based AV Dawson has been selected  to be the bio-secure base of operations for a shipment to the British Antarctic Survey's (BAS) Rothera Research Station at Rothera Point.  Part of AV Dawson's quayside freight terminal within Teessport in Teesside has been transformed into a bio-secure location for the delivery, de-contamination and repackaging of TGP's shipment destined for Antarctica.
TGP was awarded the contract for project logistics management for a shipment of equipment and construction materials to the British Antarctic Survey's (BAS) Rothera Research Station at Rothera Point by BAM. The global construction and civil engineering company is in charge of removing Rothera Point's old wharf and building a new one. The wharf  will be built over two Antarctic seasons, which began in November 2018, and is to accommodate the UK's new state-of-the-art polar research vessel, RRS Sir David Attenborough. Serving as a UK Hub for polar science, Rothera is located 900 miles south of the tip of South America on Adelaide Island, which is along the western coast of the Antarctic Peninsula.
Antarctica has the coldest and one of the harshest climates on Earth; it also has an incredibly fragile ecosystem that can be threatened by the incursion of harmful organisms and non-native species of plants and animals.  The companies have  closely cooperated to ensure that all cargo underwent strict bio-secure measure of cleaning and storage before loading onto the vessel.
The project highlights the strength of capabilities in the North East region to facilitate a project of this scale and complexity. TGP called on support from Stadium Export Services, part of the British Engines Group, to take responsibility for the packaging, palletisation and containerisation of some of the construction products and machinery, allowing it to be stored safely  and securely for transit in the vessel.
Brian Smith, Stadium Export Services CEO, said: "We were delighted to be approached to work on this exciting project which draws on the expertise and heritage of the North East. This has been a fantastic opportunity to collaborate with other businesses within the region on a world-leading research operation.
"Due to the critical nature of this project, we worked on site and to a strict timescale to design and manufacture bespoke preservation and packaging solutions for the construction materials which will be used on the project. It's incredibly important that the equipment is packed in the right way to ensure there are no surprises when it arrives in the Antarctic! Protecting the environment was priority when considering the materials and methods used on this project, avoiding contamination was a key focus for us."
Charlie Nettle, AV Dawson head of commercial and marketing, said: "TGP selected AV Dawson's Tees Freight Terminal because of its ability to adapt and transform into a bio-secure site. The decontamination process for the Rothera shipment started weeks before any of the materials arrived. Our facility underwent deep cleaning directly prior to commencement of receiving cargo. This was conducted in addition to a routine maintenance schedule of spraying insecticides, pesticides and herbicides and a manual inspection to remove weeds, rodents, insects and other pests."
"The project has utilised multiple areas of our site including two large fabrication halls on our quayside site which have been segregated to create a manageable bio secure area for packaging and palletisation of cargo. TGP has also been able to benefit from the use of our Environment Agency approved wash pad facilities to decontaminate any cargo that arrives on site. Our TRIP (Tees Riverside Intermodal Park) site has also received and stored over 90 containers destined for the project."
Colin Charnock, TGP CEO, commented: "Trans Global Projects won this contract thanks to our extensive track-record in biosecurity and quarantine procedures – most notably in our work with project shipments and logistics to Australia, which has some of the strictest biosecurity regulations in the world. However, the Rothera project team faced another major challenge: no construction equipment or material being available on site in Rothera. This therefore necessitated in TGP consolidating, preparing and shipping all the supplies and equipment necessary for the wharf removal and re-construction at the research base on a single vessel charter."
TGP and AV Dawson's teams have worked closely with all the teams on site. Both companies have employed dedicated project supervisors to ensure the success of the project. Products ranging from two 300-tonne crawler cranes to construction steel and cement have been delivered into the site and  prepared for loading on to the vessel. In total, over 13,000 cubic metres of products have been received and loaded directly onto the vessel from AV Dawson's quayside facilities.
"Over the course of several weeks in late October and November, a team of Trans Global Projects experts have worked at a specially prepared site at AV Dawson to direct all aspects of the decontamination and loading procedures.  We chose AV Dawson's Teesside facility as port of loading because it is well equipped to handle such extensive treatment of cargo", Charnock adds.
"All cargo intended for the shipment to Rothera Point was inspected upon arrival and then washed using ultra high-pressure water jets. This decontamination process developed by TGP for this shipment is unique in its scope.  As far as we are aware, this project represents the first time such stringent export procedures have been carried out at a UK port facility on such a scale", Charnock points out. The cargo, where deemed necessary, was additionally treated with residual insecticide solutions. All containers and loading equipment underwent fumigation, and only timber compliant with the International Standards for Phytosanitary Measures No. 15 (ISPM15) was used for export packing."
The shipment departed from Teesside in November and will travel over 9,600 miles to Rothera Research Station at Rothera Point in Antarctica. Rothera is located 900 miles south of South America on Adelaide Island along the western coast of the Antarctic Peninsula.  The journey is expected to take approximately four to five weeks.
During the short Antarctic summer, temperatures typically range between 0 to +5 degrees Celsius. However, it can snow at any time of year and because of its coastal location and the Southern Ocean low-pressure weather systems, temperatures can vary widely at any time. There is usually sea ice restricting sea traffic to the continent through to the end of November. Since the Rothera Station is just south of the Antarctic Circle, both the vessel's crew and the Rothera team will be able to take advantage of 24-hours of summertime daylight at the other end of the journey to unload the cargo.