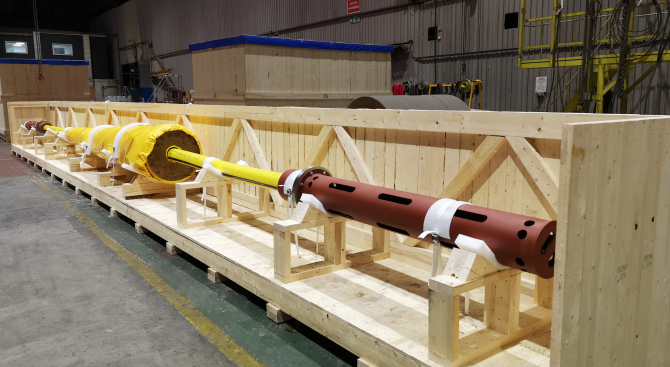 Stadium manufactures longest case to date for TechnipFMC
Posted on January 10 2020


Stadium Export Services has successfully designed and manufactured its longest timber case to date. Measuring the equivalent length of a bowling alley, the case measures approximately 17 metres long.
Stadium received the order from international oil and gas customer, TechnipFMC. The 5,000kg case was required to safely store and deliver 3,000kg of umbilical cable sample to Norway. This sample was sent to the Njord Future Project where a series of tests will be conducted to verify that the umbilical cable is fit for purpose.
Brian Smith, CEO at Stadium Export Services, said: "Protecting the umbilical sample during transit was crucial to this project. It presented a rare structural challenge due to the combination of the case's weight and length.
"Drawing upon the expertise and experience of the team, Stadium was able to develop a solution capable of both preventing damage to the product and supporting the case's structure."
Safeguarding the umbilical from any lifting and handling damage during transit was vital to this project. This was in order to ensure that testing, upon the sample's arrival in Norway, was not compromised.
Philip Jeffrey, Test Services Lead at TechnipFMC, commented: "Usually this test is to demonstrate the fatigue life and to prove that the assembly is fit for the required service lifetime. Any damage will affect this test.
"Stadium is our principal packaging supplier and its services and expertise are paramount to TechnipFMC operations."
This success comes not long after designing and manufacturing a case capable of safely holding up to 50,000kg, equivalent to eight and a half times the weight of an elephant, whilst being lifted.
What is the Njord Future Project?
Njord is an offshore oil and gas field located in the Norwegian Sea, which started production in 1997.
The Njord facility was initially designed to remain in operation until 2013. However, due to remaining resources within the area the facility is now expected to continue production until 2032.
The Njord Future Project focuses on delivering necessary structural upgrades to the facility and its floating platform, which operates within water depths of up to 330m (496 psi).
The field's facilities were towed to shore for upgrades in 2016. The new platform is scheduled to resume production during 2020.