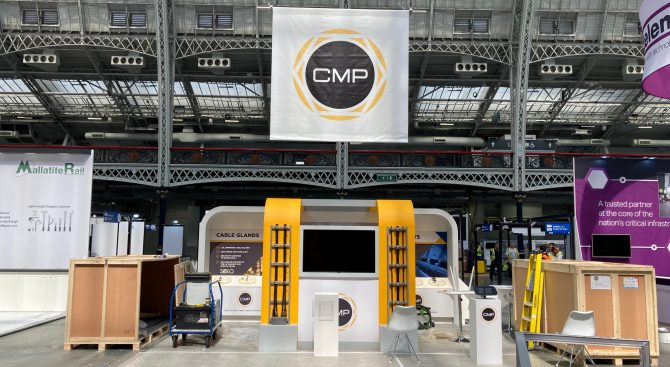 Stadium manufactures bespoke shipping cases for CMP's trade show booth
Posted on June 07 2022


Stadium Export Services completed a bespoke packing and shipping project for North East based manufacturer, CMP Products. The project involved the manufacture of a large crate to house materials that were then shipped to the Railtex/Infrarail exhibition in London.
CMP specialises in the design and manufacture of cable glands, cleats and associated products for installation in marine, industrial and explosive environments.
Stadium was responsible for the manufacture of a bespoke trade show transport case, along with the shipping of 900kg of exhibition materials for CMP's custom, 30 square metre stand space at the Olympia London.
The shipping case was designed by Stadium to be used for multiple journeys to and from exhibitions across the world. The crate needed to be robust, easy to unpack and repack, but also secure during transit.
A hinged side was designed that could be dropped down to create a ramp for loading the cargo. Lockable steel clasps were used to secure the side back up again upon completion of the packing.
At 2.5 metres long, the case fixings needed to be fit for purpose and the construction of the case suitable for multiple lifting and handling operations without adding excessive weight that would increase export freight charges.
Once manufactured to the client's exact specifications, the crate was delivered to CMP's site in Cramlington, Northumberland for packing. A total of three trade show shipping cases were then transported by road to the exhibition venue in Hammersmith and Fulham, London.
After the exhibition had taken place, the crates were collected by Stadium before being transported back to CMP's site to be unpacked.
CMP contracted exhibition stand manufacturer, The Space Base, to design and build their stand for the exhibition. Stef Lumley, Director of The Space Base, worked closely with Stadium to specify the requirements for the project: "Garry Wilsdon, Freight Forwarder at Stadium, was brilliant. He kept me up to date with progress and timings for manufacture and delivery of the crate in line with my deadlines. Timings for delivery to the venue and return were spot on! He was very professional and friendly and I was very happy with the service provided."
Find out about our bespoke case and crate manufacture services or get in touch to discuss your requirements with our team.