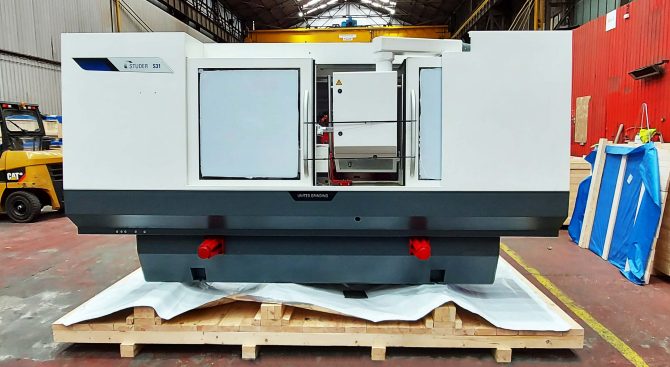 CNC Machine Export to India
Posted on October 13 2021


Stadium Export Services has packed and shipped a Studer CNC machine to India for South Shields based, Rotary Power.
Rotary Power initially used Stadium's storage service for three months before the CNC machine was packed into custom built timber cases. Particular attention was given to the case's internal lining and foil barrier protection to prevent water ingress during the journey from Gateshead to their site in India.
The machine was packed into a case measuring around 4m x 2.5m x 3m and weighed seven tonnes, as well as two smaller cases for the filter conveyor and ancillary items each weighing 0.5 tonnes.
The cases were then swiftly shipped via a flatbed trailer to the Port of Felixstowe, before being loaded onto a specialised flat rack container where it embarked on the W Kithira vessel travelling to the Port of Ennore, Chennai.
The freight forwarding team at Stadium Export organised the Bills of Lading and export customs clearance which are essential documents to import or export goods internationally. These documents enabled the cargo to be exported by sea and be retrieved from the port on arrival in India.
Vickram J.N. at Rotary Power India, said: "We are very happy with the service that we received by Stadium Export Services. Firstly storing the machine and then undertaking the packing and freight meant that the process was really simple."
Kate Wright at Stadium Export Services, said: "This was a real team effort from our packing and preservation team manufacturing the cases for transit, to the freight team arranging the best and most cost effective option for delivery to India. The whole process is extremely rewarding and it is always great to hear such positive feedback from the customer."