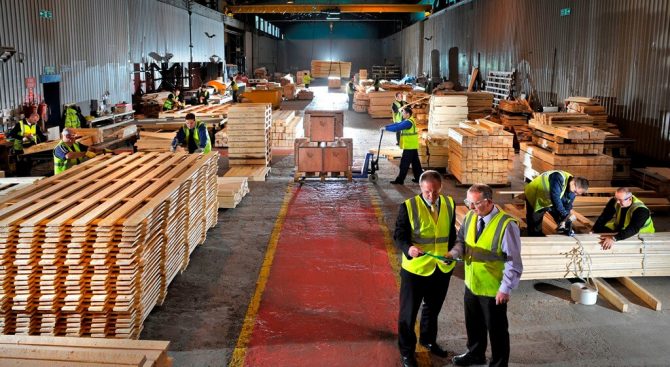 Why you should chose Stadium to export goods for you business
Posted on January 12 2022


Stadium Export Services is a leading international freight forwarder and export goods packager. We design and build bespoke timber cases, crates and pallets for the safe movement of freight cargo worldwide.
Our shipping experts ensure your package arrives safely from the choice of sea, air and road, covering both imports and exports from the UK. We provide specialist support from the date of enquiry to goods arriving at their destination. All paperwork is completed by the freight forwarding team so you can sit back and relax.
Customer enquiry and quotation
With over 35 years' experience, our customers rely on our ability and guidance for their export requirements. We ensure goods are packed and transported ranging from one-off shipments to an entire factory move. If you are exporting, importing or cross trading between foreign country borders, enquires can be made by email, telephone or on our website.
For larger project enquiries, a member of the team can visit your business to establish sizing and packaging specifications. This ensures the most appropriate cost effective packaging solution is provided. A quotation can then be quickly prepared.
Brian Harrison, General Manager, said: "We pride ourselves in the ability to react to customer demand. Our team regularly receive bespoke orders and it is our role to ensure we meet our customers' needs."
Manufacturing and packaging
Detailed planning begins once the quotation has been accepted. Raw materials are processed through CNC saws and built by skilled case makers.
Our custom made cases and crates have successfully transported cargo weighing in excess of 120 tonnes and are designed and made in accordance with BS1133. Purchased and imported from sustainable managed forests in Scandinavia, Russia, Germany and Latvia, we offer a range of case designs including; timber cases and crates, plywood framed cases, pallets, and cardboard or fibreboard boxes. All packaging ensures your product is safe and secure against damage.
Paul Francis, Customer Project Lead, said: "Our manufacturing team is experienced when dealing with urgent, same day requests or none standard size packing cases. We will go above and beyond to help our customers meet their goals."
Freight organisation
Once packed, our freight experts organise safe, efficient and cost-effective transportation by the most suitable chosen mode of transport; road, sea, air or courier service.
We liaise with agents to find the best rates and shipping solutions and ensure all the required paperwork is complete including; airway bills, bills of landing, importer security filing forms, security declarations, customs entries and T1's. Collection and delivery is arranged with tracking information provided. Regular updates are made informing you of an accurate estimated time of arrival.
Joanne Goss, Freight Forwarder, said: "The team and I regularly keep in contact with our customers to ensure they have the correct paperwork for their records and audit trails, including any up to date information on amendments to shipping schedules and arrival dates. We want to provide a service built on trust with our customers' and therefore strong communication is key."
Regular communication is made from date of enquiry to shipment arrival. Our shipping experts are on hand to provide you with all the information you need to ensure your package arrives safely.
Find out more about our export packaging services.